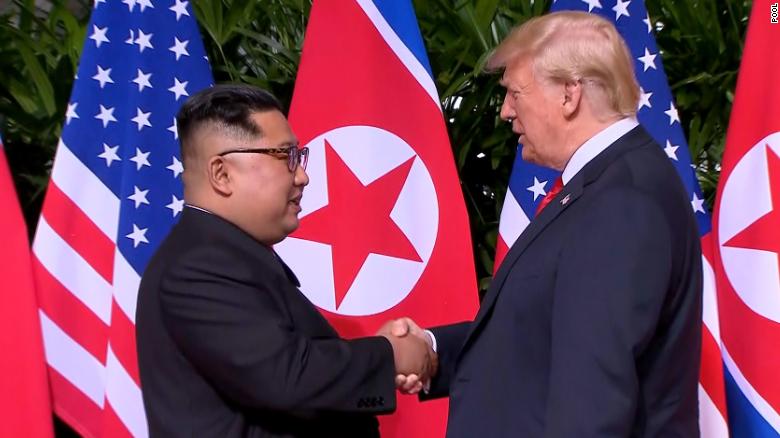 I have some thoughts on the North Korea situation. These aren't necessarily fully developed, but I think they are worth sharing. Please add your own in the comments. I'd like to hear your impressions.


● I think this "deal" happened because Trump scared North Korea. Kim really thought Trump was going to take him out.

● I think this is a really good deal actually. North Korea Kim agreed in principle to denuclearization -- something he never even hinted at accepting before. Don't underestimate that. There's nothing concrete, but I this is a huge first step from zero to "we agree we will eventually give 100%." In exchange, we agreed to stop military exercised with the South. But honestly, the South can handle itself now and we work so closely with them that specific exercises won't be needed for some time. We did not give up sanctions or anything else that I can tell. We also gave security assurances, but that would always be needed. It's also a freebie because we can always change our minds if circumstances change.

This deal reminds me of the types of deals I used to see between companies like Lockheed and Boeing. Tentative statements of intent by their CEOs that are meant to lay the ground work for the lower-level managers to put aside their war-like views and work together on something. It's a first step in cooperation, and since North Korea and the US have no relationship at all except a hostile one, I see it as a necessary step for laying the foundation for the next step. Basically, a relationship was created today, and it has an agreed upon goal. That's significant.

● Trump has definitely tossed the ball into Kim's court. We gave up nothing really and left all the work for Kim to do. Trump even said as much when he said that he trusts Kim, but might change his mind in six months. Through that, he basically declared: "We gave Kim a to-do list and we'll see if he does it. For now, I'm willing to trust him." That reminds me of Reagan's "trust by verify" sentiment. It's smart. It keeps the pressure up. It allows a quick change of posture.

By comparison, in the awful Iran deal, Obama gave up sanctions and agreed to walk away and stop bothering Iran in exchange for Iran not doing anything bad for a few years. That's an example of how not to make a deal. It tied our hands for nothing. It gave Iran what it wanted. It never established any sort of relationship from which to work. This Korea deal is much, much smarter.

● The left is thankful nothing more concrete resulted from the summit. They clearly want it to fail because they don't want Trump getting credit for anything good. Obama's Susan Rice even tried to defuse any sort of deal by whining that Korea just wasn't ready back them to reach a deal. Yeah, right. You make your own luck, Susan.

● The idiots are doing what they always do:

● Some are whining that Trump legitimized Kim by being nice to him, as if there would be any way to reach a deal with him by slapping him. When dealing with irrational people, from dictators to angry spouses, you always need to calm them down first... not agitate them.

● Some super hawks are saying this too, but that lacks a sense of reality. You can't treat someone as if your boot is on their throat unless it is.

● Others are upset that Trump didn't address human rights. Again, a lack of priorities. The goal here is to change the very nature of the regime. If that happens, human rights follow. Worrying about human rights loses the focus on what the real goal is.

● I suspect that North Korea may use this deal as a way to shift out from under China's wing. There is an opening at least to eventually align themselves with the west, and North Korea doesn't seem to like/trust China much... so maybe.

● Am I hopeful? Surprisingly, yes. Kim seems interested in change and Trump had made it easy for him. Will he do it? Not sure, but all the signs are there if you look. And Trump isn't the kind of guy to treat this like a finished matter either, so I think it will be driven home eventually.

Thoughts?